Weddings are all about grandeur and style. This extends to even the rides in which the couple bid adieu. A well-decorated car ensures the spotlight remains on the bride and groom even as they depart from the wedding. However, a balance must be struck to ensure that the decoration doesn't look too flashy or tacky in the name of style. Here are a few car decoration ideas.
Floral decorations
This is the most common and effective car decoration idea. While in yesteryears, people stuck to using a single variety of flowers and minimalistic designs, at present, an assortment of flora is used. This doesn't just make the vehicle look bright and colourful but also symbolic of the journey the newly-wed couple is about to embark on.
Previously, using many colours was frowned upon but now the people have managed to make beauty out of a medley of colours and textures.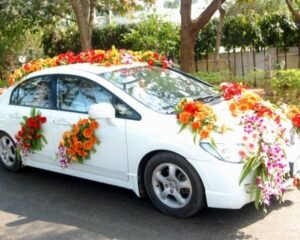 Ribbons, Sashes, and Bows
Ribbons are used far less often or along with floral decorations but never exclusively. However, some people choose to decorate using only ribbons. The advantage with ribbons is – not only does it stick easily to the surface of a car but they are also available in whatever colour and print you desire. Unlike flowers, they don't spoil either. They also allow for more flexibility and creativity with the design.
Temporary Car Paint
Painting or drawing a pleasing pattern is the easiest way to decorate. There are professionals present who have temporary paint and the required artistic skills to decorate your car for D day. Paint is preferred as you can have any design painted on your car. If it is a theme wedding, you can even paint the design or pattern used throughout the wedding as per the theme. Unlike ribbons or flowers, it doesn't need to be stuck on the surface.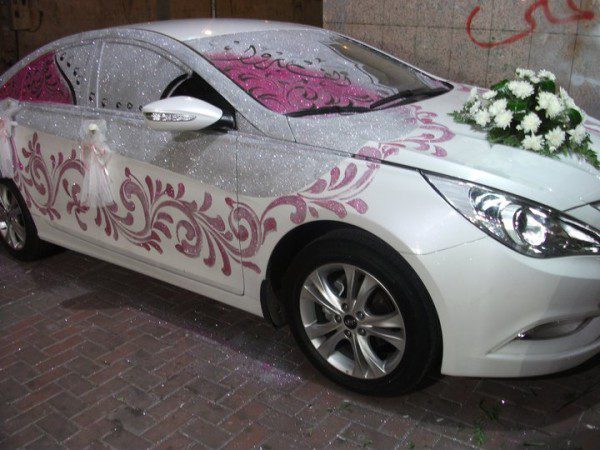 Minimalistic Side Sashes
These are apt for people who like simple and calm designs and aren't much for decorations. These sashes can be made using any of the above materials – paint, fabric or flowers. These decorations even work if you want to show off your car and not let the decorations take all the attention.
Blend different styles
People seldom use just flowers or paint to decorate their care. Often they use at least two if not all of the above items. This is because each of the things has an advantage of its own and contributes to the overall look of the final decorated car.